TUC calls on gov't to review policies on manufacturing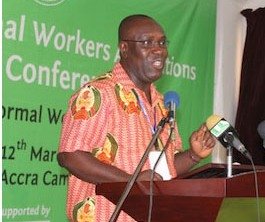 The Trades Union Congress (TUC), has called for a "radical review" of Ghana's trade policies which in its view are "unfair" to local manufacturers and farmers.

The Finance Minister in the 2018 budget and policy statement announced a number of tax reforms including the implementation of a tax threshold to protect workers on minimum wage and tax holiday for young entrepreneurs.

The TUC, in a statement signed by its General Secretary, Dr. Yaw Baah, indicated that though government's decision to remove taxes as captured in the budget is commendable, its trade policies do not favour particularly manufacturers and farmers.

"We have taken note of the several other initiatives announced by the Minister in the Budget Statement including the removal/reduction of taxes as well as the proposed reduction of energy tariffs intended to create the enabling environment for the expansion of private sector development. These are commendable measures. But one important area that needs urgent attention is our trade policy which remains unfair to local manufacturers and farmers."

Several stakeholders in the Trade Industry have for some time now been expressing concerns over what they refer to as a high tax regime.

In February 2016, the Ghana Union of Traders Association, (GUTA), directed all its members to raise red flags at their shops in support of protests to demand a reduction in taxes.

In that same year, a number of business operators including unions like GUTA, Importers and Exporters Association of Ghana, Food and Beverage Importers Association of Ghana, Ghana Institute of Freight Forwarders, Customs Brokers Association of Ghana among others, declared a three day strike over the introduction of supposedly high taxes.

The statement by the TUC also emphasized the need for Ghana to work with other countries in the ECOWAS region to secure the sub regional market for the private sector.


Meanwhile, the Chief Executive Officer of the Ghana Investment Promotion Center(GIPC), Yofi Grant has disclosed that the manufacturing sub-sector has recorded some increase in investment in the third quarter of the year.

The GIPC is targeting five billion dollars of Foreign Direct Investment for 2017.
Mr. Grant maintained that the centre is poised to attract more investors into the manufacturing sector of the economy.

"For the third quarter of 2017 manufacturing has raked in the most FDI into Ghana. For example, I can see China gradually exporting its manufacturing capability into Ghana because maybe they're seeing that this is a country that works, we're seeing India also coming, and we're seeing the UK accelerate its program with Ghana in many ways," he said.

Mr. Grant explained that the centre is urging some of the companies to begin operations on a micro level to expand with time.

He added that the centre is also working to create an avenue for local companies to partner foreign investors.

"We're seeing manufacturers coming in. Some of them are starting small to grow big. What we encourage at GIPC is that any of these that are coming with FDI should partner indigenous human capital or indigenous business people such that our people can also be elevated alongside, and we're seeing that. So there is a tendency for us to look at manufacturing in a more serious way than we have in the past," he said.